THE TOP PUBLIC INSURANCE ADJUSTER IN BARRINGTON, IL
At any time of the day or night, disaster can strike your Barrington home or business. And should that time come for you, you need to call an experienced property claims expert to help right the damages. And in this area, the top name in that field is Independent Public Adjusters.
With our experience and expertise, we can provide the fastest and most thorough insurance claims adjustment you could ask for. Whether your property has been damaged by hail, wind, a storm, or a fire, you can depend on us to get things resolved in no time and with absolute professionalism.
Don't settle for less than the best when it comes to filing an insurance claim. Rather, you should get the best, and in the Barrington area, the best is no less than the experts at Independent Public Adjustors. We work quickly and accurately to provide the best inspection and payout for you following a natural disaster.
Honest, Experienced Claims Adjusters in Barrington, IL
When disaster strikes your Barrington home, you'll want to be able to get the most accurate insurance adjustment you can so that you can quickly get your life back on track. And to get that, you need to have your claim handled by an experienced, honest, and dedicated insurance claims adjuster.
And for that, you can't beat the top-notch experts at Independent Public Adjusters. Our honest team will work thoroughly to provide the most accurate inspection of your home following a disaster so that you can get every penny of insurance money you're entitled to. To jump back quickly following a disaster, you can't beat our dependable team.
Restore Your Barrington, IL, Property after a Fire
One of the most destructive yet most unavoidable disasters that can strike your home is a fire. Whether a fire starts in the kitchen, in the laundry room, or even from outside your home, the ensuing destruction can quickly render your home unlivable for the time being.
While you may not be able to always prevent fires from damaging your Barrington home, you can get those problems rectified as quickly and as smoothly as possible thanks to our fire insurance claims service. We'll work quickly to assess all the damages that a fire can cause so that you can get your home fixed up and your life back in order in no time following a destructive and surprising fire.
Are You Looking for a Home Improvement Contractor?
You've gotten your insurance claim, no problem. Now time to use the money you've received for its intended purpose: to get your house fixed. And if you're looking for a dependable restoration expert, you can't go wrong by calling our sister company Canga Restoration. With the same quickness and thoroughness that we adjusted your claim, we'll also get your house back in livable order.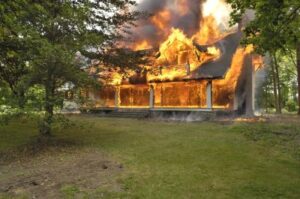 Fires are one of the most destructive issues that can occur in your home. But most unavoidable? Hardly. While you may not be able to
Read More »